you better you better you bet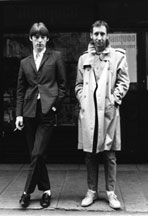 paul weller and pete townsend, soho 1980, by Janette Beckman
Three poems by
Elizabeth Skurnick
:
Medusa in Oregon
There are two things a man loves -- taking
And not taking care of a women.
It seems that I remember waking
Alongside stones that once were men.
Sip the sullen nectar at the bar,
Greet the thief beyond the Dairy Queen.
I still save my urine in a jar.
When I toss it through the shunted screen.
Branches wither from the explosion.
Then I stalk to sleep in my borrowed bed.
Where gravel severs East and West I-90,
Someone explains how the doing is undone.
Perseus, strike off my head.
I only want someone to touch me.
Inside, Out
I often have the thought
a man is coming around the corner
where I'm on the with
a book or sheets pulled to my chin --
Hello
, this stranger grins.
My mother dreams the house
laid bare, the doors flung wide --
to whom? From where? Who
ever's come is gone. Not you.
You're only out of view.
Chastity in Gomorrah
Whenever I say I'm on layover
Everyone bursts out laughing.
Suffice it to say my descent has been grim.
I thought dildoes ornamented lawns
And you scrubbed your grout with S&M.
Here they wear white, but their edges are tattering.
The lamb falls off its skewer, black
And I clutch my hands at the glass that keep s shattering.
These poems from the just-published
Check-In
, which was the winning manuscript in the 2004 Caketrain Chapbook Competition. You can purchase a copy
here
.
Additional photos by Janette Beckman can be found
here
.