welcome to the house of the bats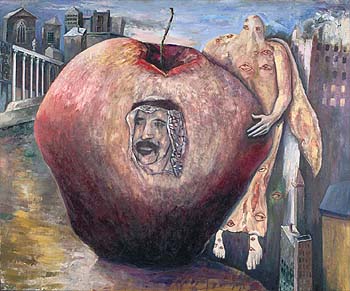 angel of security, jeff lipschutz
To My Brother, Jeff
--by klipschutz
On the phone you sighed when I said
then don't answer it, and replied
I have to, or your letter will stand.
I wrote it because what I said had to be said,
I had to say it. I. Me, Me, Me.
I'm tuning up for my big solo! Increasingly,
no two people cities countries religions
agree on anything. Raindrops (of
empty words) keep falling on my (fat) head—
One Love, God Rocks, our DNA is all the same.
Even godlessness has a spokesmodel,
guerilla ads and
people
. It loves
that kooky spotlight,
and Judge Judy has no shortage
of the hapless to berate. Our shattered family
for a warning track keeps us in the Green Zone
not at each other's throats.
Lately, I've been dropping quotes
into my poems. Some stolen pith right here
would slam this puppy home, congeal the register,
reset my rusted inner scale between
reconciliation and defiance.
That mechanical dog won't hunt, big bro,
batteries wet, analogy obscure.
You received my four-page single-spaced letter
and were "not remotely convinced."
Don't sugarcoat it. Liar's poker set me free
and I've been setting you straight ever since.
The Juke-Box Spoke and the Juke-Box Said
-- by Kenneth Fearing
A few of them, sometimes, choose record number 9,
Or sometimes number 12,
And once in a while someone likes selection 5,
But the voice they really crave, all of them, everywhere and al-
ways, from the hour the doors open until the hour they
close,
Repeated and repeated like a beating human heart,
Echoing in the walls, the ceiling, shaking the tables, the chairs,
the floor—
OVER AND OVER, IT IS SELECTION NUMBER 8—
Whispered and chuckling, as though it arose from the bottom of
the earth,
Or sometimes exploding like thunder in the room,
Not quite a curse and not exactly a prayer,
Eternally the same, but different, different, different every time—
THE WORDS OF NUMBER 8, THE MELODY OF NUMBER 8, THE SOUL OF
NUMBER 8
Saying the simple thing they cannot say themselves,
Again and again, voicing the secret that they must reveal, and can
never tell enough,
Yet it never quite gets told—
Sometimes number 9, or 12,
Or 5—
BUT ALWAYS NUMBER 8, AND ONCE AGAIN NUMBER 8,
TIME AFTER TIME, JUST ONCE MORE NUMBER 8. . .8 . . .8 . . .
I've Been Known
-- by Denise Duhamel
to spread it on thick to shoot off my mouth to get it off my chest
to tell him where
to get off
to stay put to face the music to cut a shine to go under to sell
myself short to play
myself down
to paint the town to fork over to shell out to shoot up to pull a
fast one to go haywire
to take a shine to
to be stuck on to glam it up to vamp it up to get her one better to
eat a little higher
on the hog
to win out to get away with to go to the spot to make a stake to
make a stand to
stand for something to stand up for
to snow under to slip up to go for it to take a stab at it to try out
to go places to play
up to get back at
to size up to stand off to slop over to be solid with to lose my
shirt to get myself off
to get myself off the hook