water doesn't give a damn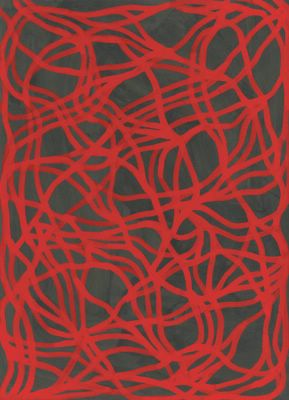 irregular grid, sol lewitt
* Yesterday (and today and for the forseeable future), in New Orleans, America's 35th largest city, not one light was turned on, not one toilet was flushed and not even one dollar worth of items was sold.
New York Times
:
"George W. Bush gave one of the worst speeches of his life yesterday, especially given the level of national distress and the need for words of consolation and wisdom. In what seems to be a ritual in this administration, the president appeared a day later than he was needed. He then read an address of a quality more appropriate for an Arbor Day celebration: a long laundry list of pounds of ice, generators and blankets delivered to the stricken Gulf Coast. He advised the public that anybody who wanted to help should send cash, grinned, and promised that everything would work out in the end."
...
"Sacrifices may be necessary to make sure that all these things happen in an orderly, efficient way. But this administration has never been one to counsel sacrifice. And nothing about the president's demeanor yesterday - which seemed casual to the point of carelessness - suggested that he understood the depth of the current crisis.
"While our attention must now be on the Gulf Coast's most immediate needs, the nation will soon ask why New Orleans's levees remained so inadequate. Publications from the local newspaper to National Geographic have fulminated about the bad state of flood protection in this beloved city, which is below sea level. Why were developers permitted to destroy wetlands and barrier islands that could have held back the hurricane's surge? Why was Congress, before it wandered off to vacation, engaged in slashing the budget for correcting some of the gaping holes in the area's flood protection?
"It would be some comfort to think that, as Mr. Bush cheerily announced, America 'will be a stronger place' for enduring this crisis. Complacency will no longer suffice, especially if experts are right in warning that global warming may increase the intensity of future hurricanes. But since this administration won't acknowledge that global warming exists, the chances of leadership seem minimal."
*
the rude pundit
:
"At some point here, some wise, ambitious, and none-too-cynical member of Congress, perhaps Chuck Hagel, perhaps Russ Feingold, needs to say the obvious: Hurricane Katrina offers the ultimate exit strategy from Iraq. What other excuse need there be to pull vast numbers of troops and billions of dollars out of our overseas failure?
"The patently absurd waste of billions of dollars will be brought to light by the suffering along the Gulf Coast. A couple of months from now, whenever some worthless, stupid right-wing fuck puppet declares that the U.S. has built schools in Basra, it'll simply be a reminder of how much faster things could have been done in Biloxi if all those funds and all that personnel were readily available."
...
"The exit strategy works on so many levels: it's actually a graceful way to pull out of Iraq. We're not cuttin' and runnin'. We need the troops back home. And even bloated hogfuckers in Congress and the Administration, who wanna keep the government largesse in the pockets of Halliburton and other companies, can get on board. Fuck, get private contractors to take care of various and sundry shit along the way. Move the whole goddamn 'rebuilding' operation to the southeast U.S. They need bridges, infrastructure, water, food, shelter."
* "In a room where people unanimously maintain a conspiracy of silence, one word of truth sounds like a pistol shot." -- Czeslaw Milosz