under the radar people are falling down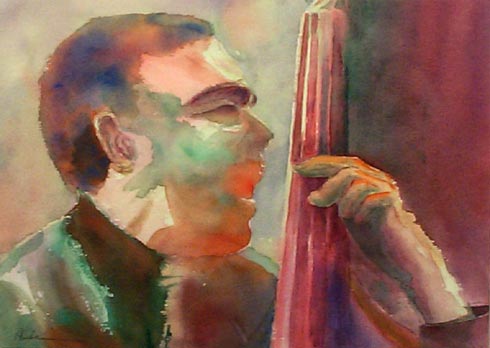 Phoebe Antrim, Mingus Hot and Cool
from Simone de Beauvoir's facinating chronicle of her first visit to the United States in 1947,
America Day by Day
:
On New Orleans:
"the old colonial city was built in a checkerboard pattern, like modern cities, but its narrow streets are lined with one-or two story houses that are reminiscent of both Spain and France. They have the serentiy of Anjou and Touraine, but the lovely, lacy wrought iron balconies make me think of the balconies in Cordoba and the wrought iron grilles on the windows of Arab palaces. An Andalusian warmth infuses the provincial silence. Exoticism here is no longer Mexican or Indial; it's French....
"there are several streets where every second door is a bar or nightclub. in this area they only sell books: new, used, bargains. the shops are tiny and spill out onto the sidewalk, offering the passerby boxes of old, damaged volumes...
"the french quarter in the heart of New Orleans is like a hard white almond, but the generous, bruised pulp that expands around this pit has a headier taste....in the streets of the old quarter where we're strolling toward evening, we see announcements for bands, nude dancers and showgirls but what we want to hear is real jazz played by black musicians...
"we enter Napoleon's House, where we like the dark wood decor, but there's no jazz. the owner is friendly because we are French, and we explain to him that we want to hear some good black jazz. His face darkens for a moment. the situation has been very tense between blacks and whites for some time and the blacks no longer want to perform for whaites. However, he suggests we try Absinthe House...
"suddenly, we're transported. the music is nothing like the music at Cafe Society or even the music in Harlem -- the three blacks are playing passionately, for themselves.... [in another bar] a young black women, half-drunk, is at the piano, and she plays some old jazz very movingly. there's a swarm of people who all seem drenched in alcohol, but drunkeness and vice are worn lightly here....
"Through its storms, its sun, its humid nights, its pearly gray spring smelling of autumn, New Orleans seems worthy of its fabulous legends. I know its one of the poorest cities in America, where life is extremely harsh; its stagnant luxury already seems ambiguous to us, and we would have liked to penetrate further into its heart, to live here in the reality of daily life. On leaving, I resolve: 'I will return.'"
*
Olbermann
. excerpt:
"No one is suggesting that mayors or governors in the afflicted areas, nor the federal government, should be able to stop hurricanes. Lord knows, no one is suggesting that we should ever prioritize levee improvement for a below-sea-level city, ahead of $454 million worth of trophy bridges for the politicians of Alaska.
"But, nationally, these are leaders who won re-election last year largely by portraying their opponents as incapable of keeping the country safe. These are leaders who regularly pressure the news media in this country to report the reopening of a school or a power station in Iraq, and defies its citizens not to stand up and cheer. Yet they couldn't even keep one school or power station from being devastated by infrastructure collapse in New Orleans — even though the government had heard all the 'chatter' from the scientists and city planners and hurricane centers and some group whose purposes the government couldn't quite discern... a group called The U.S. Army Corps of Engineers.
"And most chillingly of all, this is the Law and Order and Terror government. It promised protection — or at least amelioration — against all threats: conventional, radiological, or biological.
"It has just proved that it cannot save its citizens from a biological weapon called standing water."
...
"For many of this country's citizens, the mantra has been — as we were taught in Social Studies it should always be — whether or not I voted for this President — he is still my President. I suspect anybody who had to give him that benefit of the doubt stopped doing so last week. I suspect a lot of his supporters, looking ahead to '08, are wondering how they can distance themselves from the two words which will define his government — our government — 'New Orleans.'"
* Opening today in DC -- Busboys and Poets located at 14th and V (in the Langston Lofts: Lanston Hughes was a busboy and a poet), is "Washington's newest gathering place, with a full service bar, restaurant, Free WiFi coffee house, bookstore and a fully equipped performance stage. Busboys & Poets serves American cuisine with an eclectic twist, including many vegetarian and vegan options.
"Busboys & Poets Books is operated in association with Teaching for Change, an activist organization committed to building social justice. The bookstore stocks the largest selection of progressive poetry in the city, progressive political books and media, and independent retail items." for more information
click here
. I took a look in the window over the weekend and saw Howard Zinn books and graphic novels, certainly a good sign.
* Soi Disantra power ranks top moments from Jarmusch's
Dead Man
.