fast cars, fine ass, these things will pass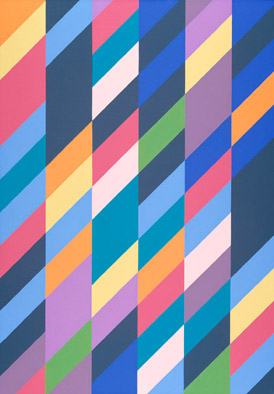 shadowplay, 1990 by bridget riley
* Tanglewood Numbers, the new Silver Jews record, has leaked to the filesharing sites and will be released in non-compressed form by Drag City October 18, 2005.
It is everything one might hope for and more. From the first lines "where's the paper bag that holds the liquor /just in case i feel the need to puke" to the last, the repeated "I saw god's shadow on this world," (words, mine anyway, cannot do justice to how excellent the ending is) Berman gives his most inspired performance yet, with spot-on rock and roll backing from Malkmus and many others in your collection.
Word on the street
is that Berman has asked Malkmus, Cassie, Paz Lenchatin and Brian Kotzur to tour on this record, which if it comes together, would be beyond fantastic.
Here's something from the last time (?) they played live:
From the Drag City Invitational:
cocksucker's blues
, by the siver jews.
*
Seattle P.I.
on Bush.
"President Bush likes to talk about high standards, accountability and personal responsibility. While Bush expects students, school systems and future retirees to toe the line, his friends get an easier deal.
"Consider White House political strategist Karl Rove, now implicated in off-the-record discussions that preceded the exposure of a CIA officer's identity. Viewed in the best light, Rove was engaged in leaking information about national security for the political purpose of making the president's sales pitch for the Iraqi invasion appear to have been honest. Whether Rove did anything illegal, he did exactly what the White House repeatedly said he had never done. Rove offered the media information about Valerie Plame's role at the CIA after her husband, former Ambassador Joseph Wilson, criticized the administration's attempts to connect Saddam Hussein with weapons of mass destruction. And Rove's conduct met the standard for removal from his post that the president laid down in 2004 when he promised to fire anyone involved in the leak.
"Now that Rove's involvement in leaking information has been confirmed, the president has decided to modify that pledge. Bush let it be known on Monday that he would fire any staffer who 'committed a crime.'
"Schoolchildren, take note. There will still be high standards for you, your teachers and your schools. But at the White House, the rule is a little different: No pal left behind. Unless, of course, he is an out-and-out criminal. That's quite a standard."
*
We did it in the stacks
. excerpt:
"I have heard that one of the rites of passage for undergraduates at Harvard University is to have sex in stacks of the vast, labyrinthine Widener Library. It's sort of an academic version of joining the "Mile-High Club."
"I suppose sex in the stacks is meant to lampoon the library's aura of high-minded seriousness and Puritanical chastity. Harvard used to keep Leaves of Grass in a locked case in order to guard the moral virtue of undergraduates. And that was in the days before Harvard admitted women.
...
"For the record, I have never had sex in the stacks, and -- even after many years of lurking in several major collections -- I have never had to discreetly avoid anyone else in flagrante delicto. But I have had many moments in stacks of great libraries that were almost erotic in their intellectual intensity.
"I have had moments in reading a text -- an ordinary one that might now be found online -- when I noticed a minor reference in the margins that sent me a few shelves down to find a much more obscure book that was packed with unexpected clues that changed my project entirely."
* If you are in the Reasearch Triangle, North Carolina area this weekend, this comes highly recommended:
Lump Gallery
is very pleased to present Lost Weekend 2005 July 22 – 24, 2005. Lost Weekend 2005 will feature a reading/literary event presented by Raleigh's Optical Oak on Friday, July 22. A night of sound/noise/performance featuring Boyzone, Phon, Planecrash and Vuokko on Saturday, July 23rd and All For Show contemporary videos by young, British video artists on Sunday, July 24th. The gallery will also feature new posters by Team Lump artists. These three events will be a low cost and highly entertaining. This event will run for one weekend only July 22 – 24, 2005. Don't Miss It!!!
Reading Friday night will be Brent Van Daley (contributor of Minus Times) and event host Eric Amling along with Flamenco dancers and contributors to the Greensboro magazine
Backwards City Review
.