sweating up a storm in that terrible month of June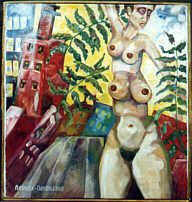 O.Leonova-Podokskaya, A Woman coming into the City
*
New York Times
:
"We read the Supreme Court's decision on the medicinal use of marijuana with mixed emotions. We certainly wish that the Justice Department could be weaned from the gross misuse of the federal Controlled Substances Act that led to its campaign against the use of marijuana by terminally ill people in the 11 states where it is legal for doctors to prescribe it.
...
"The law the Bush administration used in attempting to crack down on medical marijuana in states where it is legal was intended to stop interstate trafficking in dangerous drugs. Most Americans would agree that using small amounts of marijuana in private under a doctor's supervision has nothing to do with narcotics trafficking. To stop the Justice Department from pursuing this ideological obsession, Congress should amend the law to specifically exempt prescribed marijuana. It should not be a partisan issue; both red and blue states have laws allowing the medicinal use of marijuana.
"We hope good sense prevails. And we hope that Justice Antonin Scalia, who seems to be campaigning for chief justice, remembers that he concurred with the majority this week the next time the court hears a federal-powers case on, say, air pollution."
* U.S. border patrols are a joke: a
man with a chain saw and sword was allowed into the U.S.
"On April 25, Gregory Despres arrived at the U.S.-Canadian border crossing at Calais, Maine, carrying a homemade sword, a hatchet, a knife, brass knuckles and a chain saw stained with what appeared to be blood. U.S. customs agents confiscated the weapons and fingerprinted Despres. Then they let him into the United States."
It was this guy: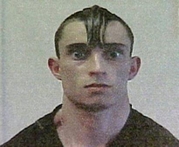 "The following day, a gruesome scene was discovered in Despres' hometown of Minto, New Brunswick: The decapitated body of a 74-year-old country musician named Frederick Fulton was found on Fulton's kitchen floor. His head was in a pillowcase under a kitchen table. His common-law wife was discovered stabbed to death in a bedroom.
"Despres, 22, immediately became a suspect because of a history of violence between him and his neighbors, and he was arrested April 27 after police in Massachusetts saw him wandering down a highway in a sweat shirt with red and brown stains. He is now in jail in Massachusetts on murder charges, awaiting an extradition hearing next month.
"At a time when the United States is tightening its borders, how could a man toting what appeared to be a bloody chain saw be allowed into the country?"
* Two poems by
Dana Goodyear
:
Oasis
We found (like the deserting) spacious calm,
drank a pair of Arnold Palmers underneath a palm.
Went for massage and mud, lacquer, love,
overheated minerals, a stimulating rub.
Then — as if it could be used, as if for art —
I placed a grain of doubt in your open-pored heart,
and watched what had been small dilate
and everything else evaporate.
Day and Age
Skimming by,
the milky spill of my old eye,
the mute white cat
now skirts me at the store.
Retarded and alert.
What good are instincts anymore?
Who does the math
for lengths of desperation
and how far to the door?
A woman, pregnant
like a red wool bud,
is circling the rink.
Catastrophe, I think.