it's just a shadow you're seein' that he's chasing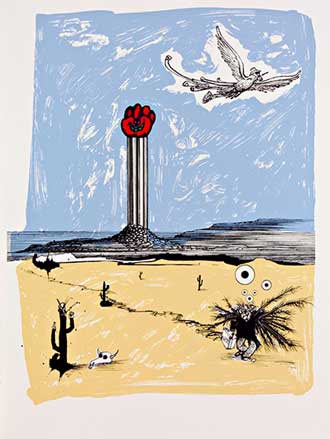 Artist Ralph Steadman, long-time friend and collaborator with Dr. Thompson, originally created this Gonzo Monument art work in 1977, and now he has produced an edition of 150 prints to commemorate his friend and to further the causes he stood for. After the blasting of Hunter's ashes on August 20th 2005, this original silkscreen print will be signed by Ralph Steadman and a handful of Hunter's close friends in the War Room at Owl Farm, Woody Creek, Colorado.
100 percent of the proceeds from the sale of these 150 original prints will go to fund the Hunter S. Thompson Foundation.
World Wide Edition of 150
Paper Size: 22 x 30 inches
Price: $2,000.00 plus $50.00 for shipping and handling.
Please contact or make checks payable to The Hunter S. Thompson Foundation.
The Hunter S. Thompson Foundation
HST Gonzo Memorial Fist Print
c/o Vectra Bank
Attn: Susan Stein
534 E. Hyman
Aspen, CO 81612
* Three Poems:
The Beach
by Eileen Myles
Economically, not
emotionally this
color is connected
to that color
the waves
break
they really
do.
I hold on,
I hold on to you
true
-- by charles bukowski
one of Lorca's best lines
is,
"agony, always
agony ..."
think of this when you
kill a
cockroach or
pick up a razor to
shave
or awaken in the morning
to
face the
sun.
Another Reason why I Don't Keep a Gun in the House
--- Billy Collins
The neighbors' dog will not stop barking.
He is barking the same high, rhythmic bark
that he barks every time they leave the house.
They must switch him on on their way out.
The neighbors' dog will not stop barking.
I close all the windows in the house
and put on a Beethoven symphony full blast
but I can still hear him muffled under the music,
barking, barking, barking,
and now I can see him sitting in the orchestra,
his head raised confidently as if Beethoven
had included a part for barking dog.
When the record finally ends he is still barking,
sitting there in the oboe section barking,
his eyes fixed on the conductor who is
entreating him with his baton
while the other musicians listen in respectful
silence to the famous barking dog solo,
that endless coda that first established
Beethoven as an innovative genius.