hot town summer in the city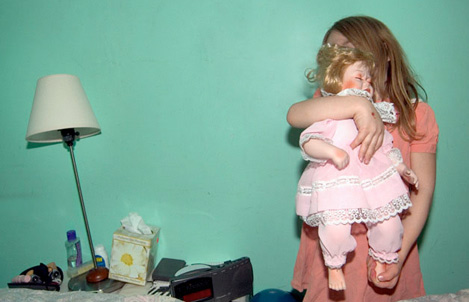 photograph by
sarah small
.
* An interview with
roger 'syd' barrett's
nephew. [
via
]. excerpt:
sTc: What's it like being around your uncle, and is there some sort of family rule that's says you should never bring up the topic of his past?
IB: The past is not something Rog ever discusses..
sTc: Has Roger ever talked to you about meeting the Beatles, or Stones or anyone famous like that?
IB: No.
sTc: What kind of music does he listen to these days?
IB: Roger does have a little record player, but he's only got a few records and tapes and they're mainly of classical concerts. He really isn't very interested in music anymore. He does have an acoustic guitar which I assume he strums to himself, but I've never heard him play it.
sTc: What does Roger think of himself... does he care at all about his past, and do you think he realizes that he's had a big influence on many other artists ?
IB: Rog. doesn't care one little bit about the past and is so removed now from the glamour and excitement of the showbiz world he once longed for; that I'm sure it confuses him that anyone else would care so much that he sung a few songs and played bit of guitar in the Sixties.
sTc: Is there something you would like to say to potential well wishing visitors to Roger's home in Cambridge?
IB: The one thing I'd really like to say to people wanting to visit Roger and see how he is - is please DON'T..!!!!! I know many fans are genuinely very caring and are interested in his well-being; but he really doesn't enjoy having people knock on his door virtually every day wanting to wish him well. PLEASE leave him in peace to get on with his life happily. I can reassure anyone concerned that he really is happy and content and he'd be more so if he didn't have to awkwardly meet fans hanging outside the house and nervously knocking on his door. To this end I'd appreciate it if anyone reading this who knows his address would refrain from publicizing it further. please don't tell people where he lives. Surely everyone has the right to a bit of privacy and peace and quiet. If Roger was still involved in the Music Business then he would be more fair game for a lack of privacy; but as it is he hasn't made a record for over TWENTY YEARS.!! please show him some consideration and leave him in peace. I know that Roger is touched by all the concern of his fans but he'd be much happier if you simply let him get on with his life undisturbed.
...
sTc: I know that there is Syd Barrett material still locked away in some vault somewhere... video/sound from the early days, solo outtakes etc. Was your father and other uncle involved in negotiating the release of Opal? And if say EMI wants to release 'Syd Barrett rarities' would they have to get the go ahead from your family to release such a project?
IB: I'm really not in a position to comment on a question like this. There may well be more recordings lying somewhere; and I would be as excited as everyone else to hear them; but where they might be I have absolutely no idea. I have no dealings with the record company personally and while it's true that my family help Roger out with his dealings with the label we're not involved with the business directly so wouldn't know about any rarities still around.
* John Darnielle's
The Story of Me Watching Some TV After Dinner
:
"'Hit Me, Baby, One More Time' (fuck I hated that fucking song, too, I wish they'd called this show something else) is a TV show where they bring one-hit wonders out and have 'em perform their hits & then, in the second round, have 'em cover a modern pop song. 'One-hit wonder' isn't really the case; last night they had the Motels, the Knack, Haddaway, Tommy Tutone, and Vanilla Ice. In between performances there're where-are-they-now interviews with the bands 'n' stuff. So, Haddaway does 'What is Love' and it's like the most beautiful thing ever of course. Tutone does 'Jenny (867-5309)" and puts a pretty surprising about of venom into it and I'm like 'holy fuck.' I missed 'My Sharona.' The Motels do 'Only the Lonely' and the fact that the song was more about production than content is clear. And of course Vanilla Ice does "Ice Ice Baby," and it's horrible - he's bellowing nu-metal style the whole time, all the charm is surgically drained from the song - but because 1) his DJ is in fact revolvin' it and 2) he does the dance moves, there's still a greatness to it.
Then our host gets really excited (English dude, Liverpudlian maybe) about the round with the 'Cover versions!' More interspersed where-are-they-now clips; I think Tutone's about three steps down the chain at some veal-fattening computerland in Portland, which might explain the intensity of his performances. Or maybe he just rules, I dunno. But either way: Haddaway does 'Toxic' (THAT'S RIGHT, PEOPLE: THE GUY WHO SANG 'WHAT IS LOVE' SANG 'TOXIC'" AND I SAW IT, OH MY GOD I RULE), the Knack do that Jet song which was a poor choice 'cause the Knack are pretty great but that song is unsalvageable, Vanilla Ice does 'Survivor' with (I think) some lyrics of his own - kinda OK for the aggroness but seriously dude's rapping is now all about auditioning for Slipknot: YELL YELL YELL I AM GONNA YELL AT YOU (no disrespect to Slipknot obviously), the Motels do some Norah Jones song and really reinterpreted it, points for creativity but the thing is this: Tommy Tutone covered Blink-182's 'Carry Me Home' or whatever it's called and holy. fucking. SHIT did he tear it two new assholes. Incredible, incredible energy, intensity, Springsteen-in-'79-level passion for three minutes on TV. I was in shock. I've always thought that song had a nice melody but couldn't have imagined it as this giant nova burst of redemptive energy.
"Naturally Vanilla Ice won, and so he did 'Ice Ice Baby' again and this time he didn't scream the whole time but it still sucked. This show rules. The end."
* "Creativity is more than just being different. Anybody can play weird--that's easy. What's hard is to be as simple as Bach. Making the simple complicated is commonplace--making the complicated simple, awesomely simple--that's creativity." -- Charles Mingus