for beauty we will pay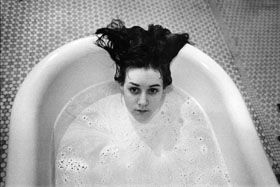 Laurie, Ward 81, 1976, by Mary Ellen Mark
* From a November 18, 1936 letter from
H.L. Mencken
to
John Fante
:
"I certainly agree with your feeling about the Communists and Fascists, though I fear I can't follow you into the arms of the Holy Church. All persons who propose to improve the human race seem to me to be equally fraudulent. It makes progress undoubtedly, but that progress is due a great deal less to exhortation than to simple evolution. My belief is that it will go so far that in another ten or twenty thousand years at least 10 percent of the human beings living on earth will be as intelligent as the average horse and as decent as the average dog. I may be optimistic, but such is my belief."
* Momus
on
Damon Albarn. excerpt:
"Justine Frischmann introduced me to Damon Albarn in 1991 outside the Falcon in Camden. His stare was beautiful but glacial; he just wasn't interested. I mumbled something about how his group Blur was playing soon at the Astoria. The next time I saw him was at Subterania, under the Westway. Justine had dragged him along to a Momus gig and he was hating it. He stood up on the balcony throwing tinfoil ashtrays in my direction. When Blur became the biggest group in Britpop it became clear that Damon was a difficult character, prickly and competitive."
...
"Flash forward to Paris, 1994. I've got married, and Blur have released 'Girls and Boys.' I think it's a terrific single. A reporter from the Daily Record is interviewing me on the Place Du Tertre about my marriage, conducted in rather dramatic circumstances. She wants to know what kind of music I like. 'Don't tell me you like that din by Blur!' she gasps. I don't, but I do. I also like the silly dialogue in the middle of 'Parklife' about wellbeing and pigeons. And the channelling of Ray Davies, vaudeville and Madness.
"In the doldrum years of Britpop I lose interest in Blur. I mean, I see them live in Paris, I hear the singles, I note that their videos are Benny Hill skits directed by Damian Hirst. Nice! But I don't hear the albums. Damon seems to reverse his previous stance on America, developing a love-hate relationship with Stephen Malkmus. Blur becomes Pavement for a while, but Pavement does it better. Albarn buys a house in Iceland. He fucks lots of girls and Justine leaves him. I meet Graham Coxon at a Divine Comedy gig at the Garage and tell him Kahimi Karie would like him to write songs for her, and what's more is selling hundreds of thousands of records in Japan. 'That's too many,' says Graham, with the same icy glacial 'fuck you' stare I'd seen on Damon."
*
How does marijuana prohibition affect government budgets?
. [
via
] excerpt:
"
The Budgetary Implications of Marijuana Prohibition
, by Boston University professor of economics Jeffrey A. Miron (June 2005), examines the budgetary implications of taxing and regulating marijuana all 50 states and at the federal level. The report finds:
-- Regulating marijuana would save $7.7 billion per year in government expenditure on enforcement of prohibition ($5.3 billion for state and local governments and $2.4 billion at the federal level).
-- Regulating marijuana would yield tax revenue of $2.4 billion annually if marijuana were taxed like other goods -- and $6.2 billion annually if marijuana were taxed like alcohol and tobacco."