Pursue the small utopias: music, friendship, intimate love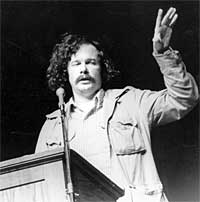 from
Ed Sander's 1976 booklet
Investigative Poetry
*
from
concerning: the opening of case files
"...we have already mentioned how blake's work on the French Revolution which he decided not to print; and the later work of pushkin; how all this talk how poets calm down, how they "come to terms with it," how they become "more objective" is bunk from a punk; and is, in my opinion, a result of repression from governments, and the repression is due, in great part, to the efforts of secret domestic intelligence police. this is true from ancient egypt, to modern america, france, the soviet union; you name the country. hitler, after world I, led domestic intelligence assassination operations against leftist and intellectuals. nixon and haldeman and the fbi-cia surrealistic-complex were headed the same direction. case files pulled down the death's-head fluttering above the white house."
*
We will see the day of
RELENTLESS
PURSUIT OF DATA!
interrogate the abyss!
to go after an item of time
(as Olson says: p. 134 of
the human universe and other essays,
the essence is to
"KNOW THE FACTS EARLY.")
(after all, wasn't one of the shrieks of our generation to suck eternity from The NOW to hear in Sonny Rollins' saxophone, to hear in Snyder and Burroughs, to hear in meditation and mountain caves, the beauty of the present, of instant gratification, of word-wheel and world-wheel.)
Therefore how in tune with our era it is to open up a case file on an item of current time,
and to quote Olson, this time
to say that history is "whatever happens,
and if it is significant enough to be recorded
the amount of time of the event can be minute."
*
from
an
interview
of Ed Sanders:
CL: how did you come up with the name Fuck You Press?
ES: well, it was a catchy title, it got right to the point.
CL: what was the comic show like?
ES: that was at PEACE EYE, when we moved to the Avenue A location, early '68… we moved into the East Village Other offices.. that was one of the first ever underground comix exhibitions, it occurred in November, '68. We had Art Speigelman, Robert Crumb, Kim Deitch, Bill Beckman and Spain Rodreguez… Spain did the TRASHMAN series, he was the only Marxist comic book artist I knew… a brilliant artist, still around I think,… he did the sign for PEACE EYE… and he also did the sign for the FREE STORE around the corner. We always had artshows going on… in one we showed works by Gregory Corso… we did a book party for Abbie Hoffman's Revolution for the Hell of It.
...
CL: was that your drawing on the cover of Roosevelt After the Inauguration (William S. Burroughs, Fuck You Press)
ES: well, Ginsberg drew that, I supplied him with a primitive light board and some cutting instruments. It was artform cutting stencils. You had to have a whole bunch of tools to do it well—which I still have. In fact, I still have my mimeograph machine in my garage… 'cause if Bush.. if they ever open up CAMP ASHCROFT, I can start printing leaflets almost immediately – I don't need electricity, I got ink. I got stencils. And I got my 1966 Gestetner mimeograph machine… what did Kerry say, "I will be reporting for duty" – for mimeograph duty if CAMP ASHCROFT opens.
...
CL: how did you come up with the name Fuck You Press?
ES: well, it was a catchy title, it got right to the point.
...
CL: was that the event where people circled the Pentagon and put daisies in the rifles?
ES: Tuli and I bought the daises.. THE FUGS just played the Ambassador Theater in Washington, and we were flush with cash, so we bought a whole bunch of daisies..
They were our flowers… people, including myself, stuck them into the barrels. Originally, we made arrangements for a small plane to fly over the Pentagon (!) and drop the daisies, but the plane was seized at the airport.