the owls have been talking to me but I'm sworn to secrecy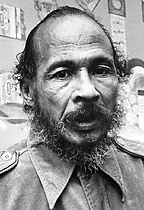 Bob Kaufman, 1925 - 1986.
Kaufman was so dedicated to the spontaneous, oral tradition of poetry that he sometimes would not write his work down, and only did so at the encouragement of his wife. He would carry his son, Parker, into coffeehouses in San Francisco and 'hold court,' reciting his poems aloud and from memory. It is claimed that he invented the word 'beatnik,' and his work is essentially improvised. His work varies from Symbolist to Surrealist, and often involves political and social protest. He was often persecuted by local authorities, and even given shock treatment against his will. After difficulties with heroin, and prison terms, he began to experience a sense of solitude.
When Kennedy was assassinated in 1963, Kaufman took a Buddhist vow of silence to protest the Vietnam war which lasted for ten years. During that period, until 1973, he neither spoke nor wrote anything. On the day the war ended, he walked into a coffeeshop and recited a poem called 'All Those Ships that Never Sailed.'
Three poems by Bob Kaufman:
All Those Ships that Never Sailed
All those ships that never sailed
The ones with their seacocks open
That were scuttled in their stalls...
Today I bring them back
Huge and transitory
And let them sail
Forever.
All those flowers that you never grew-
that you wanted to grow
The ones that were plowed under
ground in the mud-
Today I bring them back
And let you grow them
Forever.
All those wars and truces
Dancing down these years-
All in three flag swept days
Rejected meaning of God-
My body once covered with beauty
Is now a museum of betrayal.
This part remembered because of that one's touch
This part remembered for that one's kiss-
Today I bring it back
And let you live forever.
I breath a breathless I love you
And move you
Forever.
Remove the snake from Moses' arm...
And someday the Jewish queen will dance
Down the street with the dogs
And make every Jew
Her lover.
Round About Midnight
Jazz radio on a midnight kick,
Round about Midnight.
Sitting on the bed,
With a jazz type chick
Round about Midnight,
Piano laughter, in my ears,
Round about Midnight.
Stirring up laughter, dying tears,
Round about Midnight.
Soft blue voices, muted grins,
Excited voices, Father's sins,
Round about Midnight.
Come on baby, take off your clothes,
Round about Midnight.
Jazz Chick
Music from her breast, vibrating
Soundseared into burnished velvet.
Silent hips deceiving fools.
Rivulets of trickling ecstacy
From the alabaster pools of Jazz
Where music cools hot souls.
Eyes more articulately silent
Than Medusa's thousand tongues.
A bridge of eyes, consenting smiles
reveal her presence singing
Of cool remembrance, happy balls
Wrapped in swinging
Jazz
Her music...
Jazz.