lookin' for soul food and a place to eat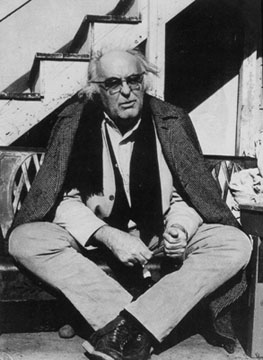 photograph of charles olson by gerard malanga.
BET
-- by charles olson
[Charles Olson wrote this poem in memorium of his second wife, Elizabeth Olson, who was tragically killed in a car accident on March 31, 1964.]
It was herself which was my joy, she was
spirit before I had any, she was my nature until
I opened the book of nature and was denied the
heaven of the intellect having had the other three.
And my soul said
you can't go there
To this I owe my life and I pay here my memory of her
who was Elizabeth and I called Bet.
What Do Women Want?
--by Kim Addonizio
I want a red dress.
I want it flimsy and cheap,
I want it too tight, I want to wear it
until someone tears it off me.
I want it sleeveless and backless,
this dress, so no one has to guess
what's underneath. I want to walk down
the street past Thrifty's and the hardware store
with all those keys glittering in the window,
past Mr. and Mrs. Wong selling day-old
donuts in their café, past the Guerra brothers
slinging pigs from the truck and onto the dolly,
hoisting the slick snouts over their shoulders.
I want to walk like I'm the only
woman on earth and I can have my pick.
I want that red dress bad.
I want it to confirm
your worst fears about me,
to show you how little I care about you
or anything except what
I want. When I find it, I'll pull that garment
from its hanger like I'm choosing a body
to carry me into this world, through
the birth-cries and the love-cries too,
and I'll wear it like bones, like skin,
it'll be the goddamned
dress they bury me in.
Hometown
-- by Beth Woodcome
The shame in the church crawls out of each human. A mild sin grows first behind the ears.
The wind: it comes without thought or any use of my hands. My hair grows the same color as the red scarf covering a lamp. I've heard of women who lead men into a chamber that is stained like the pit of a cherry. Place something upon the tongue. Go in peace.
Pretending there is no time to stop and look at the old gravestones that lean south, my father keeps driving. The common is cold and blown clear of leaves. This is near Chocksett School playground where a German shepherd tore up my soft back. My father took me to the dog that night to let it smell me. I held it in my arms. We're all bound to something.
The strain of the body in trauma stresses the heart muscle. When I come up for air, the wind fills my throat before I realize I want it to.