when you smile then you give yourself away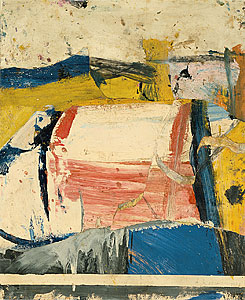 -- William DeKooning, 1957
* Short Dayton CityPaper interview of
will oldham
. excerpt:
DCP: Superwolf apparently came about based on a bet you had a long time ago with Brightblack about recording songs for an EP, where they basically dared you to cover one song and you'd cover another. You later bet Matt that if he'd write the music for a new LP that you'd handle the lyrics. Could you talk a little bit more about how the two of you began recording together?
Will Oldham: The collaboration came about because I had a show in London and I asked Matt if he wanted to play with me, then I issued a challenge for us to come up with three new songs for the show. I sent him five songs in lyric form, and he worked out music for three of them. The collaboration was so satisfying that we extended it.
...
DCP: Have you enjoyed the ability to work so closely and intimately with someone else? Was their any major disagreements?
WO: There have been major disagreements. It is extremely rewarding, though, when people can share and exchange appreciated ideas.
...
DCP: When you write from the "Bonnie" persona, is it the same mindset as when you wrote things for the various Palace bands years ago, as well as the material you write and record under your given name? Is one more narrative or personal than the others?
WO: It's a more informed mind space, Bonnie, than Palace Music. The "own name" stuff is instrumental, or collaborative, or between the cracks.
DCP: Will you being releasing anything as Will Oldham in the near future, or are you content right now releasing records with the "Bonnie" persona?
WO: We'll see. Basically, sung songs with lyrics are all Bonnie songs now.
DCP: Superwolf tends to rely on a sort-of "monster movie" feel. Most of the record is very creepy and somewhat blood-curdling (including the fantastic drawn cover). Was that the idea going into the recording or did it happen as the recording process wore on?
WPO: Maybe it came from a love of Rory Erikson and Samhain?
* A full hour of
tapes bearing the music of the Thelonious Monk quartet with John Coltrane
were found in January at the Library of Congress. excerpt:
"But it is Monk with Coltrane that constitutes the real find. That band existed for only six months in 1957, mostly through long and celebrated runs at the East Village club the Five Spot. During this period, Coltrane fully collected himself as an improviser, challenged by Monk and the discipline of his unusual harmonic sense. Thus began the 10-year sprint during which he changed jazz completely, before his death in 1967. The Monk quartet with Coltrane did record three numbers in a studio in 1957, but remarkably little material, and only with fairly low audience-tape fidelity, is known to exist from the Five Spot engagement.
"The eight and a half Monk performances found at the Library of Congress, by contrast, are professionally recorded, strong and clear; you can hear the full dimensions of Shadow Wilson's drum kit and Ahmed Abdul-Malik's bass. It is certainly good enough for commercial release, though none has yet been negotiated.
...
"The music was discovered by accident, during the routine practice of transferring tape from the Library of Congress's Voice of America collection to digital sound files for preservation. Larry Appelbaum, a studio engineer, supervisor and jazz specialist at the library, said that he was given a batch of about 100 tapes for digitization one day in January and looked to see what was there; among them he noticed a brown cardboard box for a 7½-inch reel, marked in pencil 'sp. Event 11/29/57 carnegie jazz concert (#1),' with no names on it. It piqued his interest, and one of the boxes holding the Carnegie tapes - there were eight in all - said 'T. Monk.' 'It got my heart racing,' Mr. Appelbaum said. (None of the tape boxes mentioned Coltrane.)"
* The
Harry Ransom Humanities Research Center at The University of Texas at Austin
has acquired the papers of Pulitzer Prize-winning author Norman Mailer for $2.5 million.
"'From the Vietnam War to capital punishment, from first amendment rights to the role of the writer in the modern world,' said Thomas F. Staley, director of the Ransom Center, 'Mailer engaged the important intellectual and social issues of his time. This is one of the most comprehensive literary archives the Center has ever acquired.'"