souls are crumbling like a dirt clod hole
* Works by
Ray Caesar
, who has a show at New York's Jonathan LeVine Gallary from March 19 through April 16: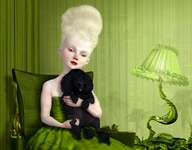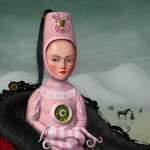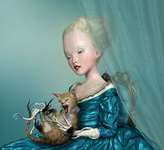 * Interview of Sam Lipsyte, most recently author of the very funny novel
Homeland
. excerpt:
Q: If you could fuck a book, which book, and why, and in which position?
Lipsyte: I'd fuck Klaus Kinski's autobiography All I Need Is Love, which accommodates all positions.
Q: Have you ever entertained sexual fantasies about a literary character? If so, please describe your date.
Lipsyte: Robert Jordan (For Whom the Bell Tolls) and I fight the forces of fascism in Spain. Later we fuck in a cave. Queequeg wanders in and does unmentionable things with his harpoon. Ulrich's sister in The Man Without Qualities and Daisy Buchanan join in. It's not really a date, but it's something very exciting.
Q: When you try to pick someone up at a reading, what's your favorite literary euphemism (i.e., you wanna come over and anna my karenina?)
lipsyte: Would you like to Primo my Levi? I guess I don't know any literary euphemisms. I guess I don't cruise readings, either. Don my DeLillo? At least there's a legitimate verb there.
Q: Whose books do you save for bedtime reading in the hopes that the author will visit you in your dreams? If this has ever worked, please describe the nocturnal encounter.
Lipsyte: Sometimes I read Edward Dahlberg in bed, but I definitely don't want him to visit me in dream. I just think his prose, so lush and allusion-dense, makes my dreams that much dreamier. I'm tired of falling off cliffs or not getting my homework in on time.
* Bob Dylan mp3's from his Frbruary 1962 performance on the
Cynthia Gooding Radio Show
.