snow scenes level lonely bastards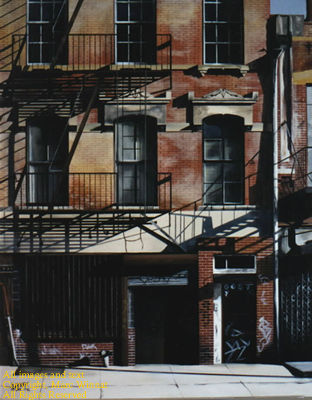 "Suicide Hall, 295 Bowery", 1995 by Marc Winnat
"According to numerous historical references, this building housed a saloon called 'McGurk's,' which was open from 1895 to 1902. The name 'Suicide Hall' was adapted after a number of down and out prostitutes, that worked the area, began killing themselves inside the bar. Soon a morbid curiosity took over and people started visiting the establishment, simply to witness one of these events in person. Thus the name, 'Suicide Hall.' The actual building is still standing on the Bowery, near Houston Street, but it is in danger of coming down very soon due to redevelopment. [
via
]
Never Ever Again the Same
-- by James Tate
Speaking of sunsets,
last night's was shocking.
I mean, sunsets aren't supposed to frighten you, are they?
Well, this one was terrifying.
Sure, it was beautiful, but far too beautiful.
It wasn't natural.
One climax followed another and then another
until your knees went weak
and you couldn't breathe.
The colors were definitely not of this world,
peaches dripping opium,
pandemonium of tangerines,
inferno of irises,
Plutonian emeralds,
all swirling and churning, swabbing,
like it was playing with us,
like we were nothing,
as if our whole lives were a preparation for this,
this for which nothing could have prepared us
and for which we could not have been less prepared.
The mockery of it all stung us bitterly.
And when it was finally over
we whimpered and cried and howled.
And then the streetlights came on as always
and we looked into one another's eyes--
ancient caves with still pools
and those little transparent fish
who have never seen even one ray of light.
And the calm that returned to us
was not even our own.
The Luxury of Sitting
-- by Chris Stroffolino
As if life is the box at the wharf
for those who need surgery to feel--become splendid
and grateful as the wave's happy sacrifice.
Ah, the power we have when the water recedes!
No more the voyeur borrowing moon
now that the jackhammers have peeled our clothes
and the rooster's caught redhanded
by the sun that seconds its smile
if you stoop to think about it
near the grass factory where invitations incubate.
On the other side, no one can see you.
The reason: they think it's their duty to be attentive
and cannot live the lie of laziness.
We are animals in search of whiffs or flames.
The precise ants and out of tune bulls.
Dualism sends urgent warnings, reminders.
A fool is a formletter but there's a still hill somewhere
and it takes two or time to find it.
DIY Foot Washing
-- by Kristin Hall
I never meant to hypnotize us
and not your little man Swerve inside
at the drive-through strip club.
Me and the line of cars looking
like a fluffy white dog,
my delicious face, serious
enough to bring home, pretty much
anywhere that could wait until later
And even now, Swerve is feeding us
apple seeds and hopes the cyanide
will kill us, but as a film projectionist
he's always fucking up the ends,
beaming blue and blaming it
on the marijuana. Deep in his own voltage
he feels like an octopus
working with three hearts.
Swerve is paying off kids
in the village and bathing us in
the kitchen sink. He doesn't know us
until we're done and promises
burlap shirts for our territories,
bit parts in forgotten songs
about trains. The war is small and not
many people are dying, we're shooting
skin over our eyes in a statement of purpose,
but who can resist the 60 watt bulb
charging up our leg fluid.
[Hall's poem is from Issue 1 of
Backwards City Review
]