give me a home where the buffalo roam
RIP Hunter S. Thompson (July 18, 1937 - February 20, 2005)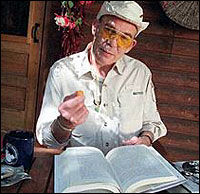 From
Newsday
:
"Hunter S. Thompson, the hard-living writer who inserted himself into his accounts of America's underbelly and popularized a first-person form of journalism in books such as 'Fear and Loathing in Las Vegas,' has committed suicide.
"Thompson was found dead Sunday in his Aspen-area home of an apparent self-inflicted gunshot wound, sheriff's officials said. He was 67. Thompson's wife, Anita, had gone out before the shooting and was not home at the time.
"Besides the 1972 classic about Thompson's visit to Las Vegas, he also wrote 'Fear and Loathing: On the Campaign Trail '72.' The central character in those wild, sprawling satires was 'Dr. Thompson,' a snarling, drug-and alcohol-crazed observer and participant.
"Thompson is credited alongside Tom Wolfe and Gay Talese with helping pioneer New Journalism -- or, as he dubbed his version, 'gonzo journalism' -- in which the writer made himself an essential component of the story.
"Thompson, whose early writings mostly appeared in Rolling Stone magazine, often portrayed himself as wildly intoxicated as he reported on such figures as Jimmy Carter, Richard Nixon and Bill Clinton."
...
"Thompson was a counterculture icon at the height of the Watergate era, and once said Nixon represented 'that dark, venal, and incurably violent side of the American character.'
"Thompson also was the model for Garry Trudeau's balding 'Uncle Duke' in the comic strip 'Doonesbury.' He was portrayed on screen by Bill Murray in 'Where The Buffalo Roam' and Johnny Depp in a film adaptation of 'Fear and Loathing in Las Vegas.'
"That book, perhaps Thompson's most famous, begins: 'We were somewhere around Barstow on the edge of the desert when the drugs began to take hold.'"
...
"Born in 1937, in Kentucky, Hunter Stocton Thompson served two years in the Air Force, where he was a newspaper sports editor. He later became a proud member of the National Rifle Association and almost was
elected sheriff
in Aspen in 1970 under the Freak Power Party banner.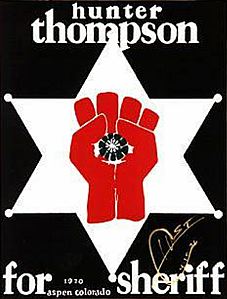 "Thompson's heyday came in the 1970s, when his larger-than-life persona was gobbled up by magazines. His pieces were of legendary length and so was his appetite for adventure and trouble; his purported fights with Rolling Stone editor Jann Wenner were rumored in many cases to hinge on expense accounts for stories that didn't materialize.
"It was the content that raised eyebrows and tempers. His book on the 1972 presidential campaign involving, among others, Edmund Muskie, Hubert Humphrey and Nixon was famous for its scathing opinion.
"Working for Muskie, Thompson wrote, 'was something like being locked in a rolling box car with a vicious 200-pound water rat.' Nixon and his 'Barbie doll' family were 'America's answer to the monstrous Mr. Hyde. He speaks for the werewolf in us.'
"Humphrey? Of him, Thompson wrote: 'There is no way to grasp what a shallow, contemptible and hopelessly dishonest old hack Hubert Humphrey is until you've followed him around for a while.'"
While covering the Hell's Angels, Thompson (a personal hero) wrote numerous poems, many on a whim while killing time in his Haight Asbury apartment or a local taven. The following poem was written in a Point Richmond bar after a night of heavy drinking. Thompson said "its a true story, I was sitting at the counter with a waitress having some coffee when suddenly a stranger came out of the bathroom with shaving cream on his face ranting like a madman." Thompson struck up a conversation with him and eventually brought him to Sunday brunch at the home of Richmond mayor David Pierce where they gorged on blintzes with raspberries and Napa Valley champagne. They spent the rest of that Sunday together at the Mariner's Tavern.
Collect Telegram from a Maddog
(October 13, 1965)
Not being a poet, and a drunk as well
leaning into the diner and dawn
and hearing a juke box mockery of some better
human sound
I wanted rhetoric
but could only howl the rotten truth
Norman Luboff
should have his nuts ripped off with a plastic fork.
Then howled around like a man with the
final angst,
not knowing what I wanted there
Probably the waitress, bend her double
like a safety pin,
Deposit the mad seed before they
tie off my tubes
or run me down with Dingo dogs
for not voting
at all.
Suddenly a man with wild eyes rushed
out from the wooden toilet
Specifically Luboff and the big mongers,
the slumfeeders, the perverts
and the pious.
The legal man agreed
We had a case and indeed a duty to
Right these Wrongs, as it were
The Price would be four thousand in front and
ten for the nut.
I wrote him a check on the Sawtooth
National Bank,
but he hooted at it
While rubbing a special oil on
his palms
To keep the chancres from itching
beyond endurance.
On this Sabbath.
McConn broke his face with a running
Cambodian chop, then we
drank his gin, ate his blintzes
But failed to find anyone
to rape
and went back to the Mariner's Tavern
to drink in the sun.
Later, from jail
I sent a bunch of telegrams
to the right people,
explaining my position.
If you are a fan of HST, Dust Congress recommends reading his recently published books of letters, where you learn about HST as well as the then-current mood of the country, including the fact that the idea for Top Ten lists may have come from Thompson:
From a December 11, 1970 letter from Hunter S. Thompson to Rolling Stone editor John Lombardi:
..."But by 'music' I don't mean the Nitty Gritty Dirt Band. If the Grateful Dead came to town, I'd beat my way in with a fucking tire iron, if necessary. I think Workingman's Dead is the heaviest thing since Highway 61 and 'Mr. Tambourine Man' (with the possible exception of the Stones' last two albums...and the definite exception of Herbie Mann's Memphis Underground, which may be the best album ever cut by anybody). And that might make a good feature: some kind of poll on the Best albums of the '60s... or 'Where it was at in the Rock Age.' Because the '60s are going to go down like a repeat, somehow, of the 1920s; the parallels are too gross for even historians to ignore.
"So, for whatever it's worth -- to either one of us, for that matter -- here's the list from Raoul Duke:
1. Herbie Mann's Memphis Underground
2. Bob Dylan's Bringing It All Back Home
3. Dylan's Highway 61 Revisited
4. Grateful Dead's Workingman's Dead
5. Rolling Stone's Let it Bleed
6. Buffalo Springfield's Buffalo Springfield
7. Jefferson Airplane's Surrealistic Pillow
8. Jazz innovator Roland Kirk's albums in general
9. Miles Davis's Sketches of Spain
10. Sandy Bull's Inventions
"Jesus, what a hassle to even think quickly about a list like that. Even now I can think of 10 more I might have added... but what the fuck, its only a rude idea. But a good one, I think, and particularly for RS. The implications of the final list would vibrate far beyond the actual music... it would be a very heavy fucking document. You may want to give it some thought."