And get lost in snow and drown in rain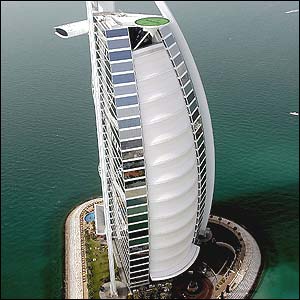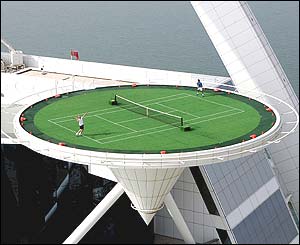 * Agassi and Federer hit some balls as part of the
'Helipad Open'
, atop Dubai's 321m high Burj Al Arab hotel, which is set on a man-made island.
* From a short
interview
of Ira Kaplan:
Q: Do you think you'll work with other artist like Maureen Tucker, Jad Fair or Daniel Johnston in the future?
Ira: I'm sure we will. We just played a concert in Utah and Daniel Johnston was on the bill. He sang "Speeding Motorcycle" and the Beatles' "The One After 909" with us. We haven't seen Jad in a while, unfortunately. And although we have never worked with Maureen Tucker, we would love to. We have spoken about doing something a few times, but our schedules have never worked out.
In December we played at Maxwell's all eight nights of Hanukkah (the third time in the last four years we have done this). We played very few songs as a trio, and were joined by a long list of great people, including all four members of Eleventh Dream Day, all four members of the Coctails, most of Calexico, Dave Schramm, Wreckless Eric, Conor Oberst, all three members of the Shams (the New York Shams, not the current band from Cincinnati), Glenn Mercer and Dave Weckerman from the Feelies, Steve Wynn, and Laura Cantrell, and more.
* HST's
ashes
may be shot from a cannon.
"Hunter S. Thompson, the 'gonzo journalist' with a penchant for drugs, guns and flame-thrower prose, might have one more salvo in store for everyone: Friends and relatives want to blast his ashes out of a cannon, just as he wished.
"'If that's what he wanted, we'll see if we can pull it off,' said historian Douglas Brinkley, a friend of Thompson's and now the family's spokesman.
"'There's no question, I'm sure that's what he would want,' said Mike Cleverly, a longtime friend and neighbor. 'Hunter truly loved that kind of thing.'
"Colorado fireworks impresario Marc Williams said it's doable.
"'Oh, sweet. I'd love to. I would so love to,' said Williams, 44, owner of Night Musick Inc. in suburban Denver and a fan of Thompson's writing."