we killed the endless summer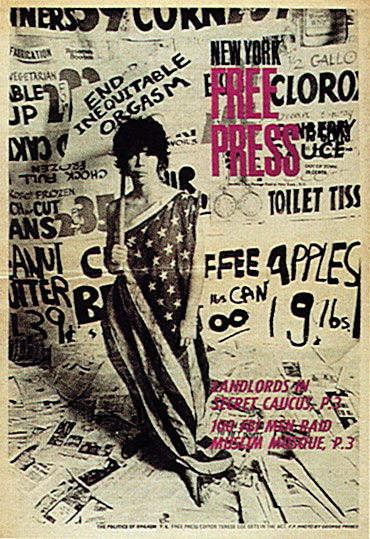 * Short profile of
Steven Heller
(pictured above from 1968), editor of the AIGA Journal of Graphic Design and the chair of the MFA design department at the School of Visual Arts. He is the author or editor of more than seventy books on graphic design, and he is a contributor or contributing editor to nearly 25 magazines, including Print, U&lc, Eye Magazine, Communications Arts, ID magazine, Graphis, Design Issues, and Mother Jones. Since 1986 he has been senior art director of the New York Times, which he first joined as an art director in 1974. From 1967-1973, he served as art director for numerous publications, including Interview magazine, The New York Free Press, Rock Magazine, Screw magazine, Mobster Times, Evergreen Review, and the Irish Arts Center. [via
Momus
] excerpt:
"In this process of impossible Herculean output Heller has managed to completely chronicle the past hundred years of graphic design to such an extent and depth that his influence cannot help but be felt by every design student and practitioner everywhere in the world. He is the Samuel Boswell of our graphic design age.
"Heller came to his Boswellian role by a strange and circuitous route. A product of both a military school and a progressive prep school on the Upper West Side of Manhattan, Heller never received a formal art education. In 1968, his leftist leanings led him to the New York Free Press. He was seventeen years old and became art director. He had no qualifications whatsoever for that job. He used his press pass to attend some New York University lectures on a variety of subjects during the student sit-in strikes. That seems to have been the extent of college education for this author of over sixty books.
"At the Free Press he met a brilliant young illustrator named Brad Holland, who persuaded Heller that page layouts and type choices actually mattered. Heller had been more or less oblivious to design. He had read a copy of Simplicissimus for its political content and thought the design 'looked nice.' But Heller's personal tastes ran more toward political cartooning and conceptual illustration. In 1974, after brief stints at Interview, Rock, Screw, Rat, and the Evergreen Review, he wound up as art director for the New York Times Op-Ed page, home of political illustration, surrealism, and social comment. His respect and passion for illustration led him to produce a variety of collections on the subject. The first, Artists' Christmas Cards, was followed by Man Bites Man: Two Decades of Satiric Art, Jules Feiffer's America and a number of others."
* The Guardian reports Falluja is
"a city of ghosts
where dogs feed on uncollected corpses." excerpt:
"'Falluja used to be a modern city; now there is nothing. We spend that first day going through the rubble that had been the centre of the city; I don't see a single building that is functioning,'says journalist Ali Fadhil.
"Most of Falluja's 300,000 residents fled before the assault and now some have begun to return to find their homes destroyed, the water and electricity still cut and untreated sewage flowing openly. There is little chance elections can be held there with polling day three weeks away.
"Some Iraqis openly criticise the fighters, despite the risks. 'The mujahideen are responsible and the clerics for the destruction that happened to our city; no one will forgive them for that,' a former major in the much feared Republican Guard tells Fadhil.
"In one badly damaged home near a cemetery, he finds the body of a fighter still lying on the floor. "The leg is missing, the hand is missing and the furniture in the house has been destroyed," he writes. 'I can't breathe with the smell.'"
* Washington Post
editorial
. excerpt:
"The full scope and extravagance of President Bush's second inauguration will be decided by inaugural planners and federal officials. The District of Columbia is hardly a bystander in this quadrennial event, however, because it is always called upon to provide security and other local services. Until this year, that arrangement has not been a problem for either party. Historically, the federal government has reimbursed the District's inaugural costs through a special appropriation -- a point D.C. Mayor Anthony A. Williams was forced to make in a Dec. 27 letter to Joshua B. Bolten, director of the Office of Management and Budget, and Homeland Security Secretary Tom Ridge.
"The letter was necessary because this year the Bush administration has decided to break from that practice. If the administration has its way, the District will be forced to meet the security needs of the inauguration by draining its own tax dollars or tapping into federal funds already earmarked and approved for homeland security needs. Neither alternative is acceptable. Inaugural events are a federal responsibility. The federal government should spend federal resources or reimburse jurisdictions -- such as the District -- on which presidential inaugural requirements have been imposed."