There's nothing in my life bigger than beer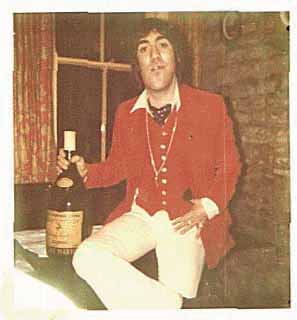 John Mears on
Keith Moon
. excerpt:
"Keith Moon, drummer of the Who,moved in opposite me in Old Park Ridings, Enfield. We became friends."
...
"In 1969 the name of the game was booze pill`s & getting high. Keith never at that time smoked pot, he was strictly into brandy blues & madness & in that order, he would drink all day, blue`s all night followed by Mandy`s to bring him down to sleep. He loved to see how people would react to the way he acted, he would go for a drink in a local pub in Enfield & ask the barman for a large brandy & ginger & a pint of lager, to which he would pure the larger over his head, & down the brandy & ginger in one, licking his lips he would ask for the same again guava!!!! This was his way of life he loved shocking people, just to see there reaction. One day in warder street he went in to a Deli & bought a pickled gherkin, to which he walked down the road offering it to anyone he saw, in a most offending way! But this was Moon lapping up their reaction`s! One afternoon after the pub`s had kicked out every one, Keith said he would like to go around to one of his mates, and started telling me the way to get there, when we got there he ask me to go and knock on the door and see if anyone was in, Which I did, to my amusement the door opened and there standing there with a floor tile in one hand and adhesive in another was Ringo Starr. Looking over my shoulder he shouted `Moon you barstard come in and take me away from all this!` He was retailing his front door way area. We started drinking brandy and coke, it was 3:30 by 6:30 we were taping ourselves doing goon send up`s, playing pool and dancing with the Fiberglas penguins in the back garden (NOT IN THAT ORDER!!) Ringo was one of Keith`s best mate`s at the time and he became my next boss when i left Keith a year later. Thank`s to his P.A and driver at the time Martin lickett, but that`s another story."
* The McEnroe Show will air Luna's performance of "Malibu Love Nest" tomorrow night, Wednesday December 15th, at 10p.m. on MSNBC.
* Lap pillow being
marketed
to Japanese men. excerpt:
"Single or lonely Japanese men may get lucky this Christmas.
"One popular item for holiday shoppers is the 'lap pillow,' with skin-coloured polyurethene calves folded under soft thighs -- a comfy cushion for napping, reading or watching television."
...
"Care was taken with details such as the softness of the thighs, panty lines on the pillow's 'backside' and wrinkles in the lap of the skirt so as to make the pillow look and feel as real as possible.
"'We thought our main customers would be men in their 20s, but even men in their 60s are buying it,' Igarashi said."