Drink to me babe, then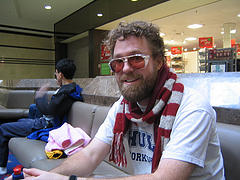 Steve West, in a photo taken recently at the Fair Oaks (Virginia) mall by
Michael Janssen
* Florida dealers report
stolen pot
to police, authorities call them "America's dumbest criminals." excerpt:
"A Panhandle couple is under arrest after notifying police Thursday that their quarter-pound stash of marijuana was stolen and that they needed the weed back, because they were going to later sell it.
...
"According to the police report, the couple returned to the home they share and found the home broken into and a quarter-pound of marijuana missing. They immediately called authorities to report the break-in and theft."
"Police said the couple told them they were going to resell the marijuana and allowed the detectives to search the apartment. Investigators discovered several marijuana stems among other drug paraphernalia during the search, The News Herald in Panama City reported for Saturday editions."
* Pernice Brother release
more songs for charity
. Donate a dollar to your favorite charity, and download a new Pernice Brothers song. (According to the site, "Moonshot Manny" has to date raised about $1600 for First Night).
* Luna is performing on the soon-to-be-cancelled John McEnroe show.
The episode will air on Thursday, December 9 on CNBC.
* Sqrl, of Anchorage, Alaska will be hosting and posting the rest of the week.