And all the politicians makin' crazy sounds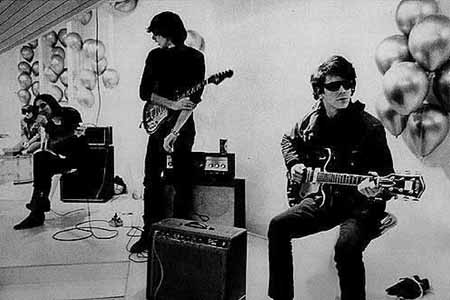 * The story of the
original Velvet Undergroud acetate
that was purchased for $0.75. excerpt:
"And so earlier this year, with flickering expectation, Warren Hill picked through some old records at a yard sale in Chelsea, New York. They seemed out of place compared with the rest the junk, like a box that had been forgotten in the attic and left untouched by a string of disinterested tenants. He pulled out a soggy copy of the Modern Lovers' first LP and then he saw it, a record with no sleeve and only a few hand-written words on the label: 'Velvet Underground... 4/25/66... N. Dolph.' He bought it for $0.75."
...
"Warhol was keen to capitalize on the buzz surrounding the events. In hopes of maintaining the band's abrasive sound and seedy subject matter, he saw the need for a completed record, one that could be given to record labels without allowing them creative control. In exchange for one of his paintings, Warhol asked a sales executive at Columbia Records to oversee a one-day recording session at the dilapidated Scepter Studios. He would not be credited as a producer, but he would play an integral part in the Velvet Underground's earliest studio recordings. That man's name was Norman Dolph.
"On a single day in April, Dolph sat behind Scepter's mixing boards as the band recorded what they thought would be their first record. Dolph had an acetate (a metallic "master" record) pressed after-hours at Columbia and sent it to the executives at the label. He still has the handwritten response he received when the acetate was returned, one he has paraphrased as, 'You have to be fucking kidding!'"
...
"Hill tracked down the phone number for Norman Dolph and, after verifying the serial number, the former producer confirmed that it was the record he had pressed for Columbia executives. Because the original master tapes of the Scepter session have been lost or destroyed, it remains as a one-of-a-kind testament to the band's first studio session, containing 'lost' versions of 'Venus in Furs,' 'I'm Waiting for the Man,' and 'Heroin.' The last time Dolph saw the record, it was collecting dust in Warhol's estate. How it ended up in a Chelsea attic remains a mystery, as does its future.
"'We're petrified and don't really know how to sell it' says Isaacson. 'We got an offer right away for $10,000, but we turned it down.'
"Not bad for a $0.75 investment. It now seems likely that the record will become the most expensive ever sold, exceeding the sale of Bob Dylan's Blonde on Blonde acetate and topping $40,000. Like finding the U.S. Constitution behind a painting, it's the kind of event that will drive yard sale attendance for years to come.
"The record now resides comfortably in a safe house at significant distance from Mercury readers."
* Largeheartedboy lists some of his favorite
albums of the year
.
* An index of
Shel Silverstein's work in Playboy
. [via
the morning news
]