no one serves coffee, no one wakes up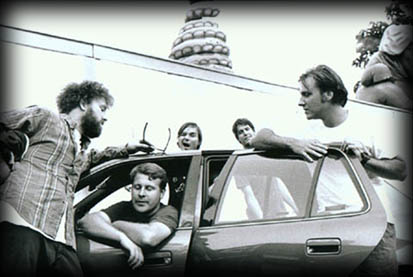 The 10 year anniversary edition of
crooked rain crooked rain
is released tomorrow.
* Top Ten
conservative idiots
. excerpt:
4. George W. Bush
"Pat Robertson appeared on CNN's Paula Zahn Now recently and gave us all an interesting insight into the administration's lack of post-war planning in Iraq. Robertson said that he warned George W. Bush of casualties before the invasion, and Bush blew him off.
"'I mean he was just sitting there like, 'I'm on top of the world,' said Robertson, 'And I warned him about this war. I had deep misgivings about this war, deep misgivings. And I was trying to say, 'Mr. President, you had better prepare the American people for casualties.' Robertson said Bush then told him, 'Oh, no, we're not going to have any casualties.'
"Not going to have any casualties? Let me get this straight. God told Pat Robertson that the war in Iraq would cause heavy American casualties. But it appears that God told George W. Bush the complete opposite. You have to feel a bit sorry for fundamentalists - considering how easily confused they already are, their heads must be exploding after these comments.
"The White House, for their part, said, 'The president never made such a comment.' Right. And the president never said there were weapons of mass destruction in Iraq."
See also: Bush Relatives for Kerry: Because
blood is thinner than oil
.
* Former colleagues come clean (almost) on why Bush
was at Project Pull
. excerpt:
"President Bush often has cited his work in 1973 with a now-defunct inner-city program for troubled teens as the source for his belief in 'compassionate conservatism.'
"'I realized then that a society can change and must change one person at a time ...' Bush said in a video shown at the 2000 Republican National Convention about his tenure at P.U.L.L., the Professional United Leadership League, whose executive director, John White, had played tight end for the Houston Oilers in the early 1960s.
"But former associates of White, who died in 1988, have disputed in recent interviews much of Bush's version of his time at the program.
"'I was working full time for an inner-city poverty program known as Project P.U.L.L.," Bush said in his 1999 autobiography, 'A Charge to Keep.' 'My friend John White ... asked me to come help him run the program. ... I was intrigued by John's offer. ... Now I had a chance to help people.'
People "associated with P.U.L.L., speaking on the record for the first time, say Bush was not helping to run the program and White had not asked Bush to come aboard. Instead, the associates said, White told them he agreed to take Bush on as a favor to Bush's father, who was honorary co-chairman of the program at the time, and Bush was unpaid. They say White told them Bush had gotten into some kind of trouble but White never gave them specifics.
"'We didn't know what kind of trouble he'd been in, only that he'd done something that required him to put in the time,' said Althia Turner, White's administrative assistant.
"'John said he was doing a favor for George's father because an arrangement had to be made for the son to be there,' said Willie Frazier, also a former player for the Houston Oilers and a P.U.L.L. summer volunteer in 1973.
"Fred Maura, a close friend of White, refers to Bush as '43,' for 43rd president, and his father as '41,' for the 41st president.
"'John didn't say what kind of trouble 43 was in - just that he had done something and he (John) made a deal to take him in as a favor to 41 to get some funding,' Maura said.
"'He didn't help run the program. I was in charge of him and I wouldn't say I helped run the program, either,' said David Anderson, a recreational director at P.U.L.L.
"A White House spokesman, told about the interviews, denied Bush had been in any trouble or Bush's father, who was ambassador to the United Nations at the time, had arranged the job at P.U.L.L. He acknowledged, however, Bush was not paid for his work there. Bush's father declined a request for an interview.
"'It was incorrect to say he was working there,' spokesman Trent Duffy said. 'He was doing volunteer service and getting paid by the Guard.'"
...
"Turner, who said she has avoided reporters for years, agreed to be interviewed only after phoning her pastor for advice.
"When she hung up the phone, she turned to a reporter: 'My pastor says if you found me, I should tell the truth.'
"Even then, Turner was hesitant. About 15 minutes into the interview, she asked if the reporter would accompany her to her pastor's home because she needed her support. Once there, she talked in detail for the first time while her pastor, Theresa Times, of Bless One Ministries, and five people who had been attending a prayer meeting listened.
"'George had to sign in and out - I remember his signature was a hurried cursive - but he wasn't an employee. He was not a volunteer either,' she said. 'John said he had to keep track of George's hours because George had to put in a lot of hours because he was in trouble.'"
* If you are in DC be sure to head over to 17th street in Dupont Circle tomorrow night for the annual
high heel race
. Parade starts at 8pm, race at 9pm. Get there early if you want to have a good viewpoint. This is an event not to be missed.