tower to the skies an academy of lies
Don't Forget, Tomorrow is POTLUCK!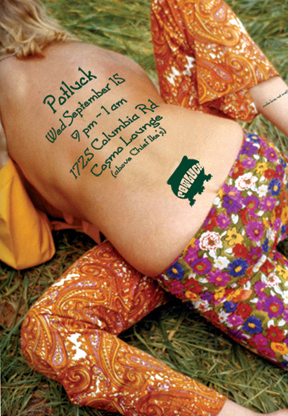 * For those of you who are interested in some of the lesser known things George Bush was up to during his National Guard Days, check out this
article
, from GQ. excerpt:
"An eight-month investigation by GQ has yielded a stunningly different portrait of Bush's 'missing year.' This magazine's findings contradict allegations that Bush avoided military service but also explain why the president has remained vague about his activities during those twelve months.
"In one respect, Bush's skeptics are right: Bush never did report to the Alabama Air National Guard. He may not even know where its barracks were. That's because during the period in question, Bush was serving his country elsewhere, in a clandestine military unit: the Special Undercover Missions Service (SUMS), an elite air-force agency specializing in national security and acts of espionage. Created by the Eisenhower administration in 1958 to respond to growing concerns about aerial reconnaissance by the Soviet Union, SUMS operated for twenty-one years in a shroud of secrecy. There is no offcial record of the organization; SUMS is said to have been terminated by President Jimmy Carter in 1979."
...
"When Bush returned from China, he discovered that Nixon was becoming increasingly manic about a domestic threat: the U.S. tour of the Rolling Stones. 'Nixon was convinced they [the Stones] were a bigger threat than John Lennon, who, if you remember, we tried to deport,' an FBI source said."
"J. Edgar Hoover had lobbied the president to arrest the Stones in 1971 on indecency charges for the band's album Sticky Fingers. In an Oval Office meeting, Hoover sat with the president and repeatedly showed him how to unzip the crotch zipper on the album's cover. A year later, Nixon obtained an advance copy of the Stones' seminal 1972 album, Exile on Main Street. He and aide H. R. Haldeman spent hours listening to the tracks.
"There is a song on that album called 'All Down the Line,' one former FBI agent recalled. 'Nixon listened to it a thousand times. You know that part, We're gonna bust another bottle, yeah / Well you can't say yes, and you can't say no / Just be right there when the whistle blows—he'd hear that and go completely batshit.'
"Bush was assigned to the Stones' 1972 North American tour. He was asked to infiltrate the band's inner circle and report on any illegal or possibly un-American activities.
"This time Bush chose to take on the identity of a roadie named Bo Bannister, an itinerant concert-business employee. Though cleaner-cut than most of the Stones' crew, Bannister enthralled his fellow roadies with tales of life on the road with acts that included Chuck Berry and Mel Tormé. Soon, he was given a position of great honor at the Stones' shows: inflating an enormous, forty-five-foot pink plastic penis at the beginning of 'Honky Tonk Women.'
"'I remember hearing about that,' said one Bush family friend. 'He used to say, 'God, if my mother could see me now, blowing up this giant pecker every night.'
"At night Bush would retire to his room and telephone Clyde Tolson, Hoover's longtime FBI deputy. The intelligence Bush was providing was not, as the FBI and Nixon hoped, evidence of a conspiracy to take over the country. Consider this written dispatch from Bush to Tolson, obtained by GQ through another F.O.I.A. request:
CLYDE—
STONES NOT SPIES. THEY ARE
NARCOTICS FIENDS. THE OTHER
MORNING I SAW SUBJECT (K.
RICHARDS) MAKE WATER PIPE
(BONG) OUT OF REVERB PEDAL.
W.
P.S. M. JAGGER SHAVES LEGS."
* DC housing prices are a bit out of control, anyone who has looked for a house or apartment lately has seen that without spending close to $500,000 its pretty difficult to find a decent sized living space in a fairly safe neighborhood. Not having that type of money to spend Ive been relegated to look in the "transitional" and "upcoming" areas. Yesterday, I looked at a home at 162 Irving, just off Georgia Avenue. The price was right -- $320,000 -- though I was aware that the neighborhood was a far cry from the 17 and P area where Ive lived for 9 years. Turing off Georgia (only six or so blocks north of Howard University) onto Irving it was apparent that this neighborhood would not be the place for me to buy a house, but still, I figured, lets see what $320,000 might buy. We arrived at the house and found a tenent -- a Howard student it appeared -- who let us in and said a family member owned the house. The place was a mess, pizza boxes and empty vodka and beer bottles lined the floors, the couches would look bad in a dump, and the sink was not only full of dishes with what looked like pasta caked on them, but was producing a very difficult to take smell. I noticed a kitchen window, which had three little holes in it. I had a pretty good idea what made the holes but still had to ask. I was told that indeed, "there are a lot of gunshots around here because of the gang activity on Hobart, and these three shots were fired, oh, maybe two weeks ago." Needless to say, we were out of the house quickly after learning that information. $320,000 for a house with bullet holes. Almost funny. The next person who looks at the place may find bigger holes now that the Assault Weapons Ban has been allowed to lapse.