Out on my skateboard the night is just hummin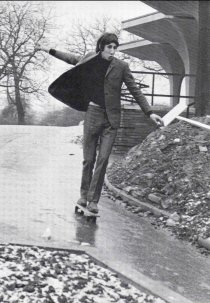 Pete Townsend in the mid-1960s
* Inmates escape jail then return
with beer
. excerpt:
"The party's over for four inmates accused of going on a beer run after the jail's doors were accidentally left unlocked.
"The men were charged Monday with escape and bringing alcohol into a jail.
"The breakout occurred Thursday night after cellblock doors at the Hawkins County Jail were left unlocked and a faulty control panel failed to alert jailers, Sheriff Warren Rimer said.
"Two of the inmates walked out through a fire exit, leaving the door propped open with a Bible, and made a hole in the exercise yard fence. They walked to a market, bought some beer and returned to the jail to share it with other prisoners. When the booze ran out, the other two inmates made another beer run to a different store."
* Poor
guy
.
"According to news bureau NTB, the man in his 20s had tried to visit a lady friend in the building on Huitfeldts Street downtown [Oslo]. Newspaper Aftenposten Aften reported that she rejected his overtures, however, and he tried to leave the building. Slightly intoxicated, however, he couldn't manage to open the building's security gate to get out.
"He then decided to try to squirm under the, and in the meantime had taken off most of his clothes. His exfiltration attempt didn't work. Instead, the man wound up stuck under the gate, in the buff.
"He was stuck in this position for nearly four hours, since there was no traffic through the gate in the wee small hours of the morning. A neighbour finally spotted him and called police.
"They found him around 6:35am but no matter how they tried, they couldn't help other than to cover him up a bit. They then summoned rescue personnel from the Oslo fire department, who finally managed to free him after using a hydraulic lift to jack up the gate.
"'He was in fairly good condition, but he was a bit cold,' said a police spokesman."