Do you curse where you come from, Do you swear in the night
* From the August 2004 issue of
Harper's
:
-- Average megawattage of electricity generated in Iraq each day last year before the invasion: 4,500
-- Average megawattage generated in Iraq each day in June: 4,300
-- Percentage of Britons who cannot name the city that provides the setting for the musical Chicago: 65
-- Minimum number of US firms under contract in Iraq that have paid federal fines, settlements, or restitution since 2000: 7
-- Amount they paid: $87,635,766
* Top 100
corporate criminals
of the decade.
* From
Matador
: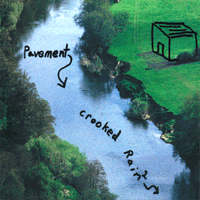 This October, Matador will be releasing a double CD 10th anniversary edition of Pavement's fabulous 2nd album, 'Crooked Rain, Crooked Rain'. In addition to a remastered version of the original album, we'll be including a number of extras including alternate takes/mixes, and previously unreleased songs. Think 'The Great Lost Pavement Album' --- literally nobody has ever heard these songs before. Package will be an embossed, die-cut slipcase. Liner notes from SM, Spiral Stairs, and Gerard Cosloy.