And where are the days I used to be friendly
* If you are in DC, this is a Must-See: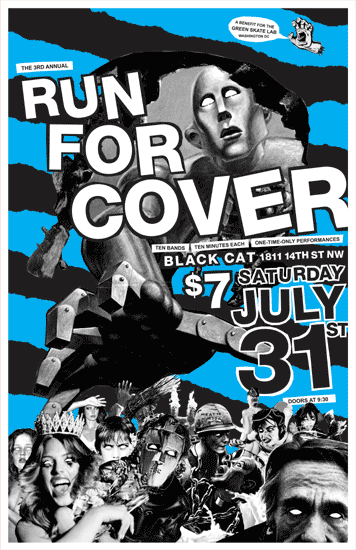 Last year
, I had the honor of being Bob Nastanovich for the Treble Kickers, a pavement cover band, at Run For Cover 2 at the Warehouse. We rocked and had a blast (sometime soon a video of our version of our take on 'Two States' will be viewable here). This year, because of last years success, Run For Cover 3 will be on the mainstage at the Black Cat.
Ten bands. Ten minutes each.
One-time-only performances from the Post Modern Lovers, Van Herlen, The Queen is Dead, OI!asis, Starpower and more.
Saturday, July 31st
at The Black Cat -- 1811 14th St NW
$7 -- Proceeds to benefit:
green skate lab
Doors open at 9:30PM, with performances beginning shortly thereafter. Advance tickets available through Ticketmaster.
* This guy
really
wants his wife to stop reading Us Magazine.
"I have every intention of following through with my marriage commitments. Even though the ceremony was in another language, I understood enough. I know I heard 'cherish' and 'honor' and 'fidelity' and 'love.' And a few other things. When it comes down to it, all marriage ceremonies seem pretty much the same. At least the traditional ones. So I know what I have to do. And when I said, "I will" in your mother tongue, I meant it. I will be with you forever. I have every intention of doing so.
"Fate has been very kind, introducing you to me. I'm luckier than anyone I know. But why Fate would have introduced you to Us Magazine, I'm not sure. I think Fate wants to mess with me. Maybe hurt me a little. Maybe Fate thinks I'm a little too lucky. Kind of like poor Christopher Reeve or M.C. Hammer. They had it all, then Fate sucker-punched them. I understand them now. When I see you reading Us Magazine, it's like a tiny dagger in my soul. Sometimes a bigger dagger, depending on who's on the cover.
"So, please, stop reading Us Magazine.
"You're above it, I keep telling you. Demi and Ashton are of no import to us. I don't care what Reese Witherspoon is really like. And where J-Lo had brunch is as interesting to me as who Fred Durst is soiling. You may think me out of the loop for not knowing exactly who Kate Hudson is, but that's because we belong in a different loop. A better loop. A loop that doesn't include Kate or Brad, Jennifer or Matt. A loop where being Courtney Love is not a plus. A loop where Angelina Jolie is not taken seriously. Or even better, she's locked up."
* Low Culture on
The Manchurian Candidate
.