In a crowded room I pick up your lonely stare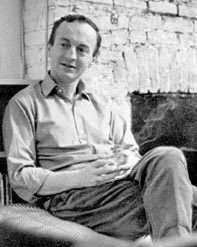 Two Poems by Frank O'Hara
A Raspberry Sweater
(to George Montgomery)
It is next to my flesh,
that's why. I do what I want.
And in the pale New Hampshire
twilight a black bug sits in the blue,
strumming its legs together. Mournful
glass, and daisies closing. Hay
swells in the nostrils. We shall go
to the motorcycle races in Laconia
and come back all calm and warm.
To John Ashbery
I can't believe there's not
another world where we will sit
and read new poems to each other
high on a mountain in the wind.
You can be Tu Fu, I'll be Po Chu-i
and the Monkey Lady'll be in the moon,
smiling at our ill-fitting heads
as we watch snow settle on a twig.
Or shall we be really gone? this
is not the grass I saw in my youth!
and if the moon, when it rises
tonight, is empty —a bad sign,
meaning 'You go, like the blossoms.'