It ain't no famous name on a golden plaque...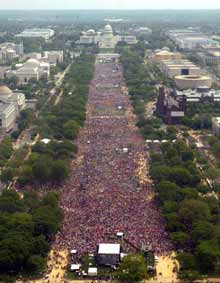 * About one million people march on Washington in support of
abortion-rights
.
* Guided by Voices to release one more album, then will
call it quits
.
"I've always said that when I make a record that I'm totally satisfied with as befitting a final album, then that will be it," frontman Robert Pollard said. "And this is it. I love the
guys in the band, but I'm getting too old to be a gang leader." "Half Smiles," due August 24th, will be the group's fifteenth album.
* Animals,
made by hands
.