Those Were Different Times
Snapshot Photographs, by Gerard Malanga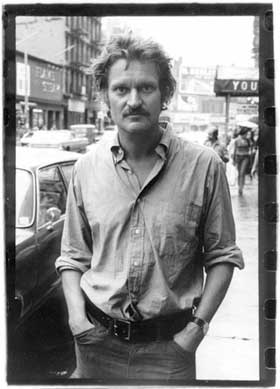 JOHN ASHBERY (1971) John used to refer to this as his butch photograph. Now when I look at it, it looks a little gay to me. But I guess he saw himself in a very masculine light. This was on Eighth Street, right near the Eighth Street Bookshop. I photographed him again in 1975 in Chelsea. He took me into the grounds of the Episcopal seminary. It was beautiful. Like walking into Harvard Yard. The vines and the ivy, the red brick. This has always been my signature shot of John.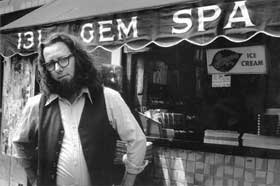 TED BERRIGAN (1971) There's a bit of innocence involved here, and enthusiasm – shared enthusiasm. A kind of camaraderie. I seemed to recall that the Gem Spa entered into Ted's poetry in some way, so this was a natural location to choose for Ted. We went all over the city that day. Up near the St. Regis Hotel we ran into John Ashbery on the street. I got this great shot of Ted goofing off on John. You see part of John's face being blocked out and this big mischievous grin on Ted's face. Those are moments that you just can't orchestrate. It was a funny afternoon.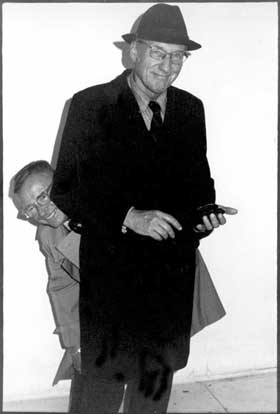 WILLIAM BURROUGHS & CHRISTOPHER ISHERWOOD (1976) This was taken in The Bunker. We were about to go out for dinner. They hammed it up. And Bill is smiling too. You don't often get a smiling Bill. He was great to photograph. I always thought L'Uomo Vogue should've put him on the cover. He was the perfect model, very accommodating.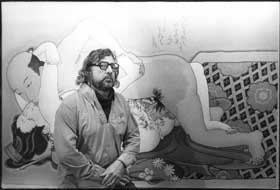 TERRY SOUTHERN (1974) This is a one-off on a roll I shot in Larry Rivers's studio in Southampton during Thanksgiving weekend of 1974. The painting is from a series of Japanese erotica that Larry was working on and would later be shown at the Marlborough Gallery. Larry was a very close friend. We used to go pick up his girlfriend Diane at high school everyday at three in Larry's Cadillac convertible. Those were wild times.
For more shots,
click here
.