The edge of creation is blurred and blushed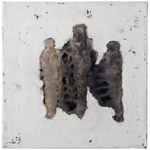 DC artist Laurence P. Wyllie has an opening reception Wednesday, January 28, 6:30 PM at the Alliance Française (located at 2142 Wyoming Avenue, NW Washington, DC).
Wyllie was born and raised in France. She studied interior design at the Ecole Supérieure des Arts et Techniques in Paris for five years and later decorative painting and faux finishes at the Van der Kelen Institute in Belgium. She is a member of the Studio Gallery in Washington.
In other news:
*
Wonkette
, a DC affiliate of
gawker
, is an online roundup of gossip from Washington, DC and the US political arena run by Ana Marie Cox, who previously was behind
the antic muse
.
* And,
RIP Captain Kangaroo
.
* CBS won't air MoveOn.org's ad during the Super Bowl (because of its obviously contradictory policy of not running advocacy ads) but will run ad from the White House Office of National Drug Control Policy (The WH ad, of course, will be nothing more than propaganda and advocacy).
read more
.