actual air live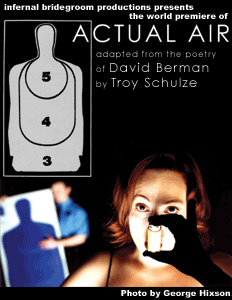 INFERNAL ANNOUNCEMENT
from Infernal Bridegroom Productions
Special Opening Weekend Rate - only $5.99!!!
Infernal Bridegroom Productions kicks off the new year with the first
in a series of four consecutive world premiere productions, and the
indie rock world is already buzzing about it.
Having introduced Houston audiences to the works of Suzan-Lori Parks,
Brian Jucha, Sarah Kane, Wallace Shawn, Mac Wellman and several other
theater artists who represent the most exciting work happening in
contemporary theater, IBP has found another outstanding playwright in
rock and roll poet David Berman. And, as was the case with our
recent production of The Kinks' Soap Opera, people from around the country
are already booking their tickets.
David Berman is a hero. He is a hero to fans of independent music
and he is a hero to the fans of contemporary American poetry. Moreover
he is a hero to longtime IBP company member Troy Schulze, who is
uniquely suited to bring Berman's poems to life and make believers out of the
uninitiated.
Berman is best known for his work with The Silver Jews, a band which
featured members of the legendary rock outfit Pavement. As the story
goes, Silver Jews mate Stephen Malkmus, of Pavement, was so impressed
by Berman's third record that he became disillusioned. According to
Malkmus, "It was such a better record than Terror Twilight
[Pavement's last release]. Much more inspired. After American Water, I could no
longer make a record the way [Pavement] made records." In his book
Actual Air, Berman has accomplished a similar feat: reawakening the
listless world of American poetry, taking sly observatons on life's
mundane rigors and twisting them into mythic, witty, passionate
anthems.
Berman's journey through a weird, dreamlike America is amusingly
strange, yet it's strikingly familiar and precise. Pulitzer
Prize-winning poet James Tate described Berman's poems as "beautiful,
strange, intelligent and funny ... narratives that freeze life in
impossible contortions."
Berman's a hero, alright. He's a hero of the most exciting variety.
The sort you may never have heard of but you'll almost certainly
never forget.
Schulze's stage adaptation of Berman's book is a collage of American
snapshots – a surreal anti-narrative decorated with striking visuals,
hilarious dialogue and live rock music, which is somehow
simultaneously bizarre and accessible, soporific and dynamic. As in the best of
poetry, plays or music, it is the stuff dreams are made on. Simply
put, it's the sort of work Infernal Bridegroom exists to produce: fresh,
bold, challenging, entertaining, brand new poetry in motion for the
next generation.
In a pressurized cabin on the moon, a robot asks his maker about the
relative sentience of snowmen. In another scene an omniscient voice
summons "all students named Doug" to a mysterious concourse. In
another a young man paints a self-portrait as a present to himself,
meditating on simple pleasures and comforting himself with such thoughts as "at
least I have not woken up with a bloody knife in my hand." As
another sly rock poet once observed, something is happening and we don't know
what it is. But something is absolutely happening. It's poetry made
live again. It's theater made poetry. And Infernal Bridegroom, and
fans of David Berman from across the country, couldn't be more
excited.
"David Berman is a young Virginian poet with a sly, intense regard
for the past. He comes on like a prankster, restocking the imperial
orations of Wallace Stevens and the byzantine monologues of John Ashbery with
the pop-cultural bric-a-brac of a new generation: 'I am not a cub scout
seduced by Iron Maiden's mirror worlds.' ... The landscapes are
crisply American, and history, especially Southern history, casts a shadow."
-The New Yorker
"Clearly, James Michener's America has fallen apart, and Berman wants
to put the pieces together in a new way. One feels certain he will:
Berman's is a funny, smart, on-again, off-again poetry of great
promise."
-The New York Times Book Review
Actual Air will be playing at the Axiom, 2524 McKinney, at 8:00 p.m.
on the following dates: February 13, 14, 15, 20, 21, 22, 27, 28, and
March 1, 6, 7, 8. Opening Weekend, February 13, 14 and 15, tickets are only
$5.99. Remaining performance ticket prices are as follows: Thursdays
$10, Fridays $12, Saturdays $15.
To make reservations, call (713) 522-8443
For more information, visit our website at www.infernalbridegroom.com