you've a got a devastating point of view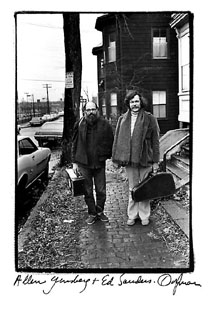 1972, by elsa dorfman
poems by philip whalen:
friendship greetings
carelessly all fixed up a can of beer
several cigarets a cup of coffee I don't care
whether school keeps or not
thinking of frank o'hara in Paris right this minute
or the basement of the museum of modern art as the case may be
confession and penance
the teeth are washed.
the breakfast was had.
the house is washed.
the garbage is out.
the papers are burnt.
the stove is clean.
the flowers are all re-arranged.
It all looks so much better you wouldn't know it.
I can remember half a dozen times when I was no good in bed.
I'm really sorry about those, but it's all over now. next time
I did better.
for Allen, on his 60th Birthday
Having been mellow & wonderful so many years
What's left but doting & rage?
Yet the balance of birthing & dying
Keeps a level sight: emptiness, not
Vacancy, has room for all departure &
Arrival; I don't even know what
Day it is.
"I told myself:"
bobbie spontaneously
"I TOLD MYSELF THAT I WASN'T GOING TO GET HIGH TODAY
AND I TOLD MYSELF THAT IF I
DID
GET HIGH
IT WASN'T GOING TO BE ON ACID --
BUT I THOUGHT TO MYSELF, WELL MAYBE
IF I JUST BROKE A LITTLE CORNER OFF IT
THERE'D STILL BE AN
AWFUL
LOT OF IF LEFT...
A CORNER OFF TODAY,"
*
what the fuck
, by pink nasty
* Old joos videos:
--
rebal jew (outtake)
.
--
slow education
.
--
new orleans (live)
.